Dekoder 4K VU+ ZERO Ultra HD 2160p DVB-S2X Enigma 2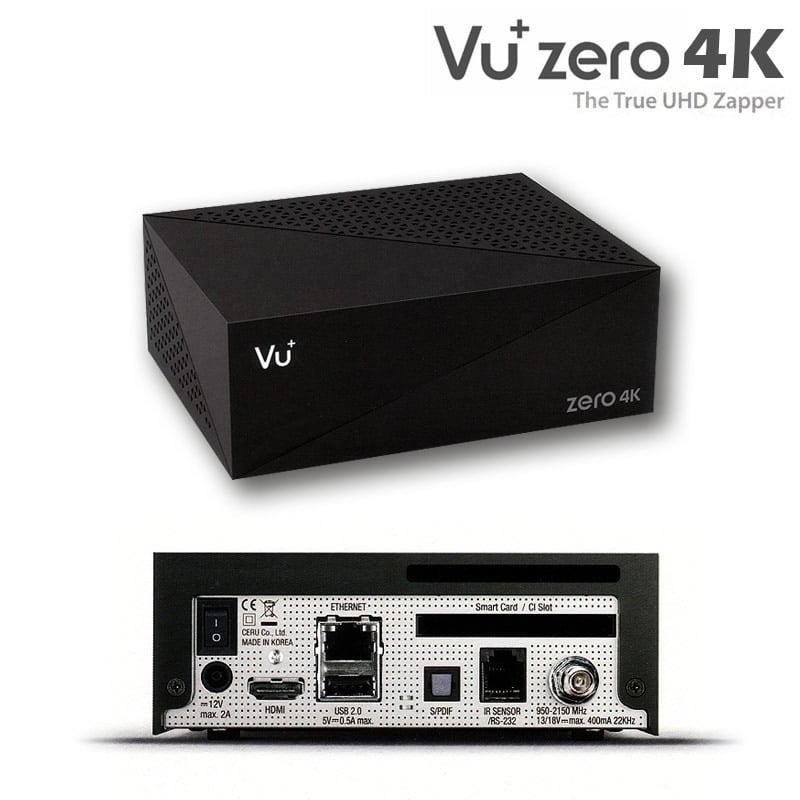 Vu+ ZERO 4K to nowy model odbiornika 4K, następca Vu+ ZERO, koreańskiej produkcji producentaMarusys. Charakteryzuje się bardzo wydajnym procesorem o szybkości 7000 DMIPS, a także obsługąDVB-S2X (alternatywnie DVB-T2/C). Na jego pokładzie znajduje się 4 GB pamięci flash i 1 GB pamięci RAM. Vu+ ZERO 4K wyposażono w czytnik kart i gniazdo CI. Wspiera technologie wyświetlania obrazu HDR10/HLG/PLM. Producent reklamuje to urządzenie jako najmniejszy odbiornik 4K na oprogramowaniu E2.
Vu+ ZERO 4K to najtańszy i najmniejszy odbiornik z rodziny VU+
obsługujący rozdzielczość UHD 4K (Ultra HD 2160p) oraz kodek wideo HEVC/H.265Vu+ ZERO 4Kto przełomowy produkt na rynku, który wspiera najnowsze formaty wideo, ale jednocześnie zostawia pełnię wolności użytkownikowi, dowolność ustawień, porządkowania listy kanałów, nagrywania (także HEVC/UHD) i korzystania z dowolnych kart i modułów CAM.Nowa architektura dwurdzeniowego procesora firmy BROADCOM o szybkości 7000 DMIPS
sprawiają, że urządzenie jest jeszcze wydajniejsze, szybsze i posiada większe możliwości.Tuner działa z modułami CI/CI+ oraz kartami działającymi w różnych systemach –
przy obsłudze CI+ niezbędne jest wgranie specjalnego oprogramowania.UWAGA !!!!
Czytnik CI+ zostaje odblokowany (działa w pełni poprawnie) po wgraniu oprogramowania VTI.Na życzenie klienta możemy przygotować dekoder do poprawnej pracy z modułem CI+.
Jeżeli chcesz, aby taka usługa została wykonana bezpłatnie, napisz w komentarzu zamówienia.
Główne zalety VU+ Zero 4K:
1 głowica DVB-S2X
1 czytniki kart
1 złącze dla modułów CI
Timeshift / PVR (po podłączeniu dysku zewnętrznego)
Uniwersalny pilot TV/SAT
Enigma2
ULTRA HD 4K 2160p
dwurdzeniowy procesor firmy BROADCOM
1024MB DDR pamięci RAM i 4096MB pamięci FLASH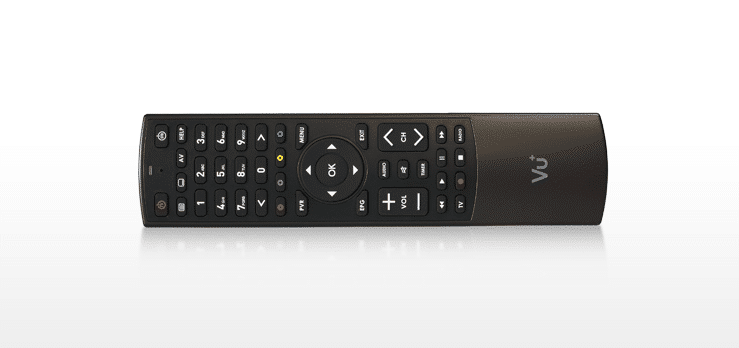 W zestawie:
Tuner VU+ ZERO 4K
Pilot + baterie
Instrukcja Obsługi
Kabel HDMI
Specyfikacja:
System operacyjny Linux (Open-Source Linux System zgodne z E2)
* Typ CPU: ARM Broadcom 72604
* Prędkość CPU: 7000DMIPS
* * Pamięć RAM: 2GB
* Pamięć Flash: 4096MB
* Wbudowana głowica: pojedyncza DVB-S2X
* Obsługiwane rozdzielczości wideo: SDTV, HDTV, 3DTV, UHDTV
* Gniazdo Common Interface: 1
* Czytnik kart: 1 – po przeprogramowaniu wielosystemowe
* Port USB: 1 (USB 2.0)
* V.24/RS232: Tak
* Gniazdo LAN: 100 Mbit/s
* HDMI: 1 (wersja 2.0)
* Inne złącza: cyfrowy dźwięk S/PDIF optyczne
* Uniwersalny, nowego typu pilot zdalnego sterowania
* Możliwość podłączenia zewnętrznego odbiornika podczerwieni
* przełączanie kanałów poniżej 1 sekundy
* EPG (przewodnik po programach)
* nieograniczona ilość kanałów i list ulubionych
* menu OSD, obsługa Skinów
Zasilanie: 100-240 V/50-60 Hz
Wymiary: 140 x 50 x 108 mm
Masa: 0,5 kg
W naszej ofercie również wiele innych tunerów Vu+.
Sprawdź i porównaj specyfikację: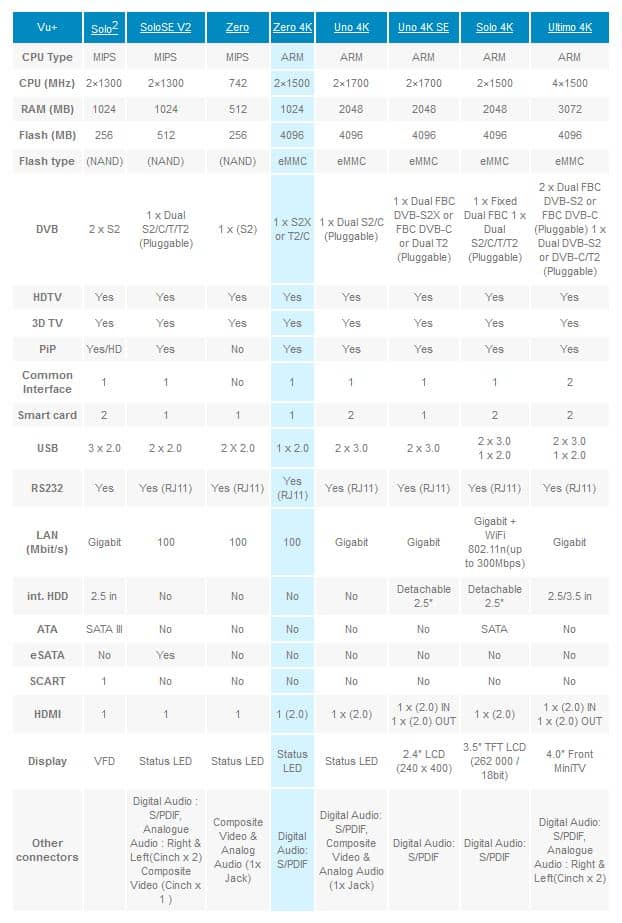 DLACZEGO WARTO KUPIĆ ?
 tani, niewielkich rozmiarów odbiornik Ultra HD wysokiej jakości, HEVC na Linuksie
1 czytnik kart i 1 gniazdo CI/CI+
Ethernet i USB
nowy szybki procesor 7000DMIPS
cicha, szybka, bezawaryjna praca urządzenia
SCREENY :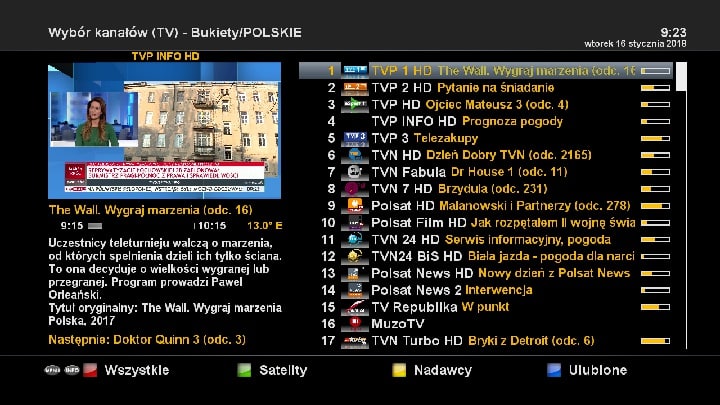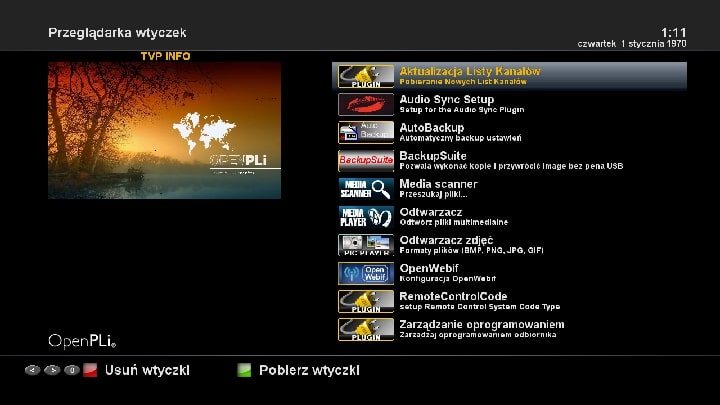 Dekodery mają wgrane softy oraz listy kanałów. Wspaniale działają z :
– kartami SECA, CONAX NAGRAVISION
– modułami CONAX , NAGRAVISION i wolnorynkowymi
– w sieci sharingowej
– jako dekoder IPTV do streamingu bez użycia anteny satelitarnej
Możliwość doboru opcjonalnie dodatków do dekodera :
OPIS DODATKÓW :
1. 4K Moduł NC+Cayman CAM CI+
Wszelkie informacje dotyczące tego produktu znajdą państwo klikając >>TU<<
2. Karta MIX z 30 dniowym pakietem START
Karta CONAX z doładowanym na 30 dni pakietem START zawierającym programy :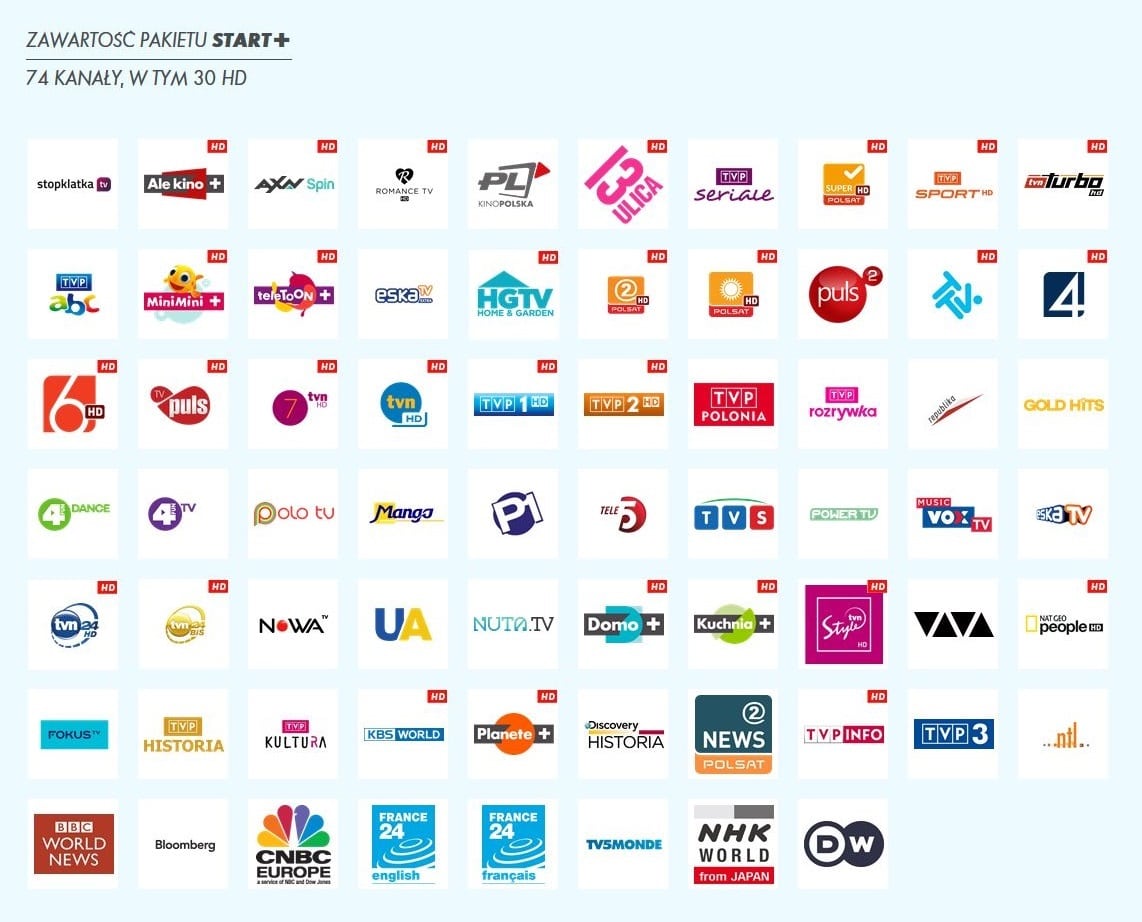 STOPKLATKA, ALE KINO+ HD, AXN SPIN HD, ROMANCE TV HD, KINO POLSKA, 13 ULICA HD, TVP SERIALE, SUPER POLSAT HD, TVP SPORT HD, TVN TURBO HD, TVP ABC, MINIMINI+ HD, TELETOON+ HD, ESKA TV EXTRA, HGTV HD, POLSAT 2 HD, POLSAT HD, PULS 2, TTV HD, TV4 HD, TV 6 HD, TV PULS HD, TVN 7 HD, TVN HD, TVP 1 HD, TVP 2 HD, TVP POLONIA, TVP ROZRYWKA, REPUBLIKA, GOLD HITS, 4FUN DANCE, 4FUN TV, POLO TV, MANGO 24, POLONIA 1, TELE 5, TVS, POWER TV, VOX MUSIC TV, ESKA TV, TVN 24 HD, TVN 24 BIS HD, NOWA TV, UA, NUTA.TV, DOMO+ HD, KUCHNIA+ HD, TVN STYLE HD, VIVA, NAT GEO PEOPLE HD, FOKUS TV, TVP HISTORIA, TVP KULTURA, KBS WORLD HD, PLANETE+ HD, DISCOVERY HISTORIA, POLSAT NEWS 2, TVP INFO HD, TVP 3, NTL RADOMSKO, BBC WORLD NEWS, BLOOMBERG, CNBC EUROPE, FRANCE 24 ENGLISH, FRANCE 24 FRANCAIS, TV5MONDE, NHK WORLD FROM JAPAN, DW, STARS TV, POLSAT MUSIC HD, ESKA ROCK TV, TO!TV, TBN POLSKA, EURONEWS.
Kartę z doładowanym pakietem START HD na 30dni
możesz kupić osobno >>klikając w ten link<<
3. Karta CONAX z pakietem START na 12 miesięcy​
Karta CONAX z doładowanym na 12 miesięcy pakietem START. Lista programów jak w punkcie 2.
Kartę z doładowanym pakietem START HD na 12 miesięcy
możesz kupić osobno >>klikając w ten link<<
W celu rozwiania wszelkich wątpliwości prosimy o kontakt
na adres office@satservice.co.uk
lub dzwoń 
Office: 02085773782
Mobile: 07988424050