Free CANAL+ decoder with MIX pack of CANAL+FILM AND SPORT 1mc free PRICE HIT
HD PVR NC+ DECODER with FREE CANAL+ package to start (possibility of recording after connecting external drive / USB flash drive)
The set includes Telewizja na Kartę NC+ with a decoder HD PVR NC+ ITI2850ST
is a code card with a paid for 1 month MIX package.
MIX contains channels of the Extra+ package with 8 Canal+channels
(over 130 channels).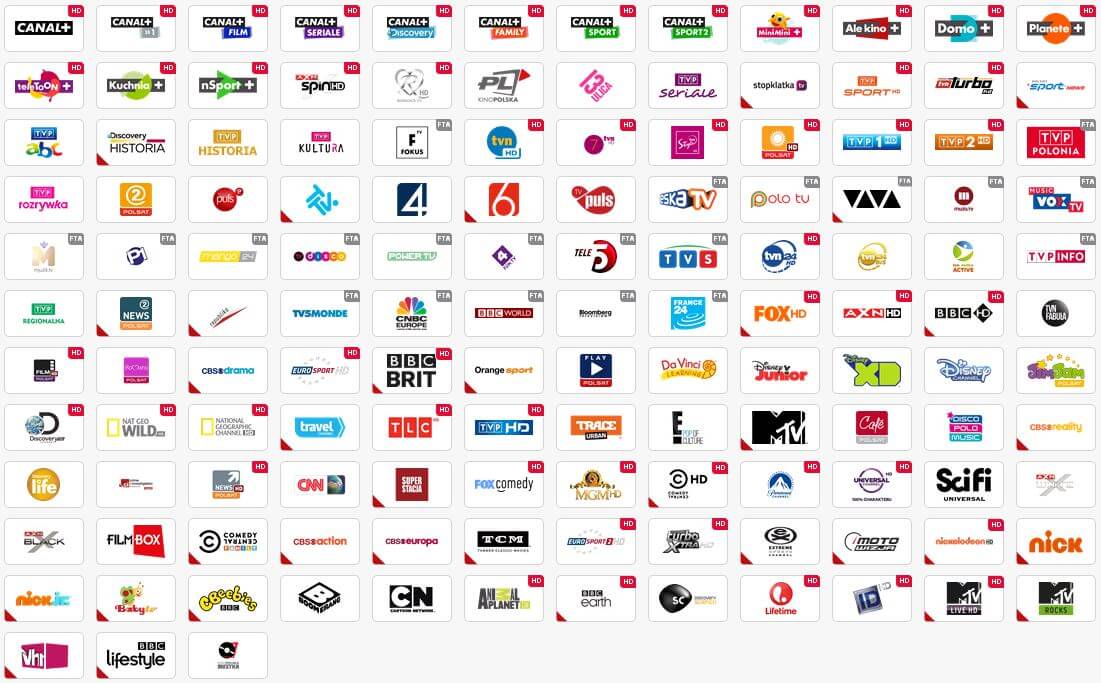 BUNDLED CHANNELS:
CANAL+ HD, CANAL+ 1 HD, CANAL+ FILM HD, CANAL+ SERIES HD, CANAL+ DISCOVERY HD, CANAL+ FAMILY HD, CANAL+ SPORT HD, CANAL+ SPORT2 HD, MINIMINI+ HD, ALE KINO+ HD, DOMO+ HD, PLANETE+ HD, TELETOON+ HD, KUCHNIA+ HD, NSPORT+ HD, AXN SPIN HD, ROMANCE TV HD, KINO POLSKA, 13 STREET HD, TVP SERIALE, STOPKLATKA TV, TVP SPORT HD, TVN TURBO HD, POLSAT SPORT NEWS, TVP ABC, DISCOVERY HISTORIA, TVP HISTORIA, TVP KULTURA, FOCUS TV, TVN HD, TVN7 HD, TVN STYLE HD, POLSAT HD, TVP1 HD, TVP2 HD, TVP POLONIA, TVP ROZRYWKA, ATM ROZRYWKA, NTL RADOMSKO, POLSAT 2, PULS 2, TTV, TV4, TV6, TV PULS, ESKA TV, POLO TV, VIVA, MUZO.TV, VOX MUSIC TV, 4FUN HITS, POLONIA 1, MANGO 24, 4FUN FIT&DANCE, POWER TV, 4FUN TV, TELE 5, TVS, TVN24 HD, TVN24 BIZNES I ŚWIAT, TVN METEO ACTIVE, TVP INFO, TVP 3, POLSAT NEWS 2, REPUBLIKA, TV5MONDE, CNBC EUROPE, BBC WORLD, BLOOMBERG, FRANCE24, NAT GEO PEOPLE HD, FOX HD, AXN HD, BBC HD, TVN FABULA HD, POLSAT FILM HD, POLSAT ROMANS,
EUROSPORT HD, BBC BRIT HD, ORANGE SPORT, POLSAT PLAY, DA VINCI LEARNING, DISNEY JUNIOR, DISNEY XD, DISNEY CHENNEL, JIM JAM, DISCOVERY CHANNEL HD, NAT GEO WILD HD, NATIONAL GEOGRAPHIC CHANNEL HD, TRAVEL CHANNEL HD, TLC HD, TVP HD, TRACE URBAN, E! ENTERTAINMENT, MTV, POLSAT CAFE HD, DISCO POLO MUSIC, CBS REALITY, DISCOVERY LIFE, CI POLSAT, POLSAT NEWS HD, CNN, SUPERSTACJA, ACTIVE FAMILY, WELLBEING NETWORK, FOX COMEDY HD, AMC HD, COMEDY CENTRAL HD, PARAMOUNT CHANNEL HD, UNIVERSAL CHANNEL HD, SCIFI UNIVERSAL, AXN WHITE, AXN BLACK, FILMBOX, COMEDY CENTRAL FAMILY, CBS ACTION, CBS EUROPA, TNT HD, EUROSPORT 2 HD, DISCOVERY TURBO XTRA HD, EXTREME SPORTS, MOTOVISION, NICKELODEON HD, NICKELODEON, NICK JR, BABY TV, BBC CBEEBIES, BOOMERANG, CARTOON NETWORK, ANIMAL PLANET HD, BBC EARTH HD, DISCOVERY SCIENCE HD, LIFETIME HD, ID HD, MTV LIVE HD, MTV ROCKS, VH1, BBC LIFESTYLE, KINO POLSKA MUZYKA, STARS TV, HISTORY HD, H2 HD.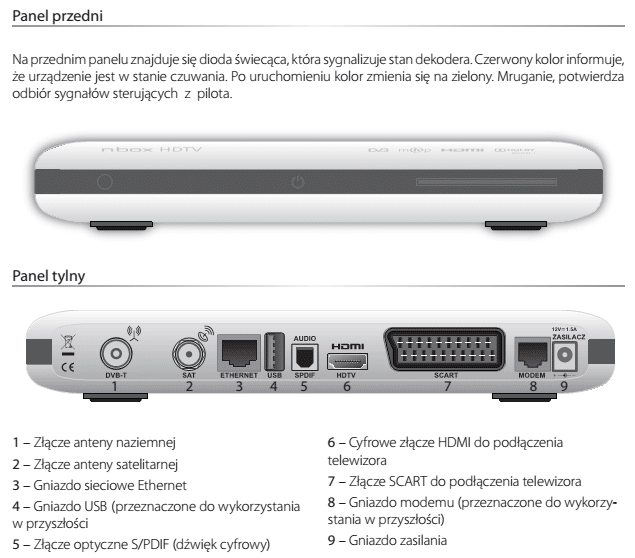 Without contracts and unnecessary formalities!
The set includes a PVR NC+ HD decoder with 12 months manufacturer's warranty with an active card for 1 month for free, power supply and remote control.
DEFINE IN A MONTH WHICH PACKAGE YOU ARE INTERESTED IN FROM THE NC+ OFFER AND LOAD IT UP FOR 12 MONTHS ON TOP AND HAVE COMESY TOPUPS
You can top up your card online here
Included in the kit you will receive:
a decoder with an active card
remote control with 2 AA batteries
power supply
instruction manual
warranty card
IMPORTANT! THE DECODER IS PAIRED WITH THE INCLUDED CARD AND WILL NOT WORK WITH ANY OTHER